Why Mattress Ranch?
Selection: Most of our locations have over 40 different mattresses in six sizes, plus RV sizes! Bonnell coil, individually encased coil, latex, gel, memory foam, massage and adjustable, we have them all. We also offer a good selection of mattress pads, sheets and pillows to make up your new bed. Choose your comfort and choose your price, extra firm to extra soft, from the least expensive to ultra premium, they are all at Mattress Ranch.
Quality: All of our mattresses are American made from top to bottom and crafted locally in our supplier's state of the art factory near Seattle. Our entire assortment is top quality — no seconds, no blemished, no irregulars. We insist our mattresses be made with only the highest quality foams and fibers and be certified free of toxic chemicals. Our innerspring units are made using only tempered steel and the wood for our foundations comes from renewable forests.
Mobile Mattress: We offer a large selection of foam and innerspring mattresses packaged so they can fit into your vehicle. Our supplier compresses this assortment into rolls approximately 20" in diameter.  The length of the roll is equal to the width of the bed, for example a queen mattress would be 60" long and 20" around. All of these can fit in the average SUV and most can fit in a passenger car. *We also have foundations that fold down to a compact size that can be transported easily. Imagine a real bed with a foundation that fits in your car!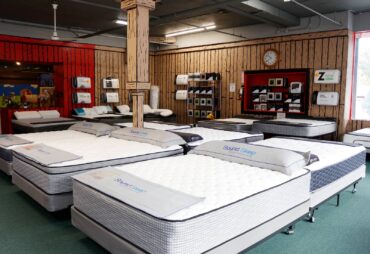 Price: We can sell below the rest because 1.) We control our costs. We don't pay for delivery trucks, a big off-site warehouse and staff. We don't open in the flashy high rent part of town. We don't have a bunch of highly paid executives. 2.) Mattress Ranch negotiates very low prices on our mattresses.  Because of our high volume our supplier is a willing partner in bringing prices down. 3.) We have a low markup. We can take a lower markup because we are a family-owned business with no stock holder to pressure our bottom line.
Good Neighbor: We are concerned with our environment and insist our suppliers are as well. We dedicate approximately 25% of our advertising budget to aid charitable causes. We won't pressure you into making a purchase, we won't try and burden you with an expensive financing contract. We don't mark up prices to mark them down, we don't have sale after endless sale. You won't need to be a professional haggler to get the lowest price on a mattress, there is no magic word to get a discount. We have everyday low prices; the price on the tag is the price of the mattress.
Please shop around and look at what other stores are offering before you visit Mattress Ranch, you'll be pleased with the difference.
---
What goes into our mattresses?
A lot of time and effort go into designing a mattress. Factors like support, feel, comfort, durability, and cost are weighed against each other to provide many different sleeping choices. Each person is different and has different needs when it comes to a mattress, that's why we have all these options.
Here is a brief explanation of a few mattress components:
Support layers: Spring units is the most common support material, but latex and memory foams are gaining popularity for their ability to cradle the body when it's at rest. Some have extra edge support in the form of extra coils, and some have a foam encasement, a "tub" that surrounds the spring or foam to provide a comfortable but sturdy edge. Each type of support layer has its unique benefits and will feel different from the others.
Bonnell coil: The traditional hourglass shaped coil tied to one another with a spiral wire and may be edged by a thicker border wire. These springs compress easily at first but get firmer as more pressure is applied. Some bonnell coils now come roll packed for easy transport to your home. Many have additional edge support.
Pocket coil: These springs are individual lengths of wire coiled into a spring and placed into a fabric "pocket" then glued to one another to form the mattress. In this way each coil moves independently of one another. The center third is "zoned" with a thicker coil to support the hips and lower back. We then place a coil spring surround around the outside for edge support. Pocket coils transfer the least amount of motion of all the spring units.
Talalay Latex: We use 100% natural latex rubber that is inherently hypo-allergenic and antimicrobial. It's a fast reflex foam that returns instantly to its original shape when pressure is removed. There are two processes of manufacturing latex, Dunlop, the most common, and Talalay, a process that produces the most constant and highest quality latex available.
Gel Memory: Temperature sensitive memory foam is a slow reflex antimicrobial foam that you "sink" into as it conforms to your body. It customizes itself to your body every time you turn or move. Mattress Ranch has several types of memory foam including poured and blended gel memory foam that will dissipate heat through the mattress to eliminate the "sleep hot" issues with many memory foams.
Comfort layers: These are the layers of foam on top of the support layer that provides the "feel" of the mattress. There are many types and configurations; each has its own benefits in providing a comfortable night. Some comfort layers are surface modified into different patterns or zoned to provide additional support for the heaver areas of the body. Our foams are now comprised of a soy-based chemical for less environmental impact.
Stabilizer foam: Heavy duty base material designed to bulk up the mattress as well as stabilize and reduce motion transfer. Used in almost all mattresses.
Eco Pad: Chopped foam quilted into a thick layer. Only 100% new foams that originally were going make carpet pad or go to a landfill are used.
Eco support: Ergonomically designed cell structure provides superior durability and support.
Eco comfort memory: Temperature sensitive memory foam. Molds to the shape of the body to relieve pressure points. Antimicrobial.
VLS: Visco lumbar support. Visco in the center third of the mattress for proper alignment.
Micro Tec: Miniature pocketed coils provide individualized support and longevity.
Gel: Often used in the medical field gel is a cross between a liquid and a solid. Gel dissipates body heat throughout the material and does an excellent job of keeping you cool and comfortable.
Latex: 100% natural, hypo-allergenic and antimicrobial latex rubber. Long lasting, buoyant, and best of all a renewal resource.
Eco flex: Ergonomically designed surface modified foam to maintain proper spinal alignment and reduce pressure points.
Eco quilt: Super soft antimicrobial layers provide a luxurious and consistently soft conforming surface.
Eco loft: Naturally inert rayon fire barrier, no harsh chemicals
Foundation or Box: This is what sits on top of your frame and under your mattress, it's only purpose in modern bedding is to raise the height of the mattress. We use and recommend the sturdiest and least expensive method, a renewable wood foundation for even solid support.
Many items go into a modern mattress to give a comfortable night's sleep. Each has a unique feel, the best way to find the one right for you is to come in and lay down on several. Spend some time laying around to really get to know a mattress.
Please come in and spend some time lying down on our selection to evaluate the different choices Mattress Ranch offers, with all the possible combinations available we're sure to have something just right for you!
---
Mobile Mattresses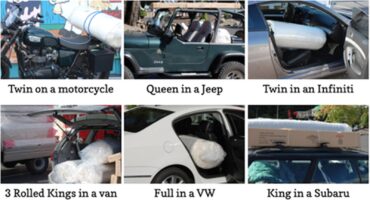 We've come up with the easiest way for you to get a new mattress home, the Mobile Mattress! Using specially designed equipment we've packaged several of our best-selling mattresses in 19" diameter sleeves that can be transported in almost any vehicle. Traditional bonnell coil, individually encased coil, latex and memory foam mattresses are all available as Mobile Mattresses. Imagine a real mattress less than 20″ around! Add our new bed base that takes the place of both a foundation and a bed frame and comes in a box for easy transport as well! Now, a completely portable sleep set you can put in your car and take home. Mobile Mattresses will fit in most cars, SUV's, boats, planes, around spiral staircases, down to tight basements and up in small attics. The compact size makes shipping mattresses to remote locations easier and less expensive as well. *
After unrolling most can be slept on in as little as six hours and they will return to their full shape and height in just 24 hours. Come see Mattress Ranch's Mobile Mattress today!
---
* Remember that we use special equipment to compress our Mobile Mattress and once you unroll them they cannot be returned to their shipping size.