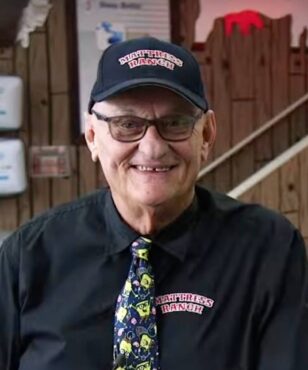 Hi, my name is Ted Sadtler and at Mattress Ranch we want you to have the best night's sleep at the lowest price. Mattress Ranch is a brand name just like Serta, Simmons, and Sealy, but without the middleman. We enlisted the help of a major local mattress factory and together we are able to produce and provide the same designs as the leading mattress brands, but for WAY less. We are proud to work with Sound Sleep, Oregon Mattress, Eclipse International and Eastman House to offer you the best rest for less.
We stock thousands of high-quality low-priced mattress sets in all sizes, even common r.v. sizes. We buy for less and we sell for less… lots less. We won't chase you out the door for "the deal" and we don't run phony sales. Most of our mattresses are hand built in Sumner Washington. We here at Mattress Ranch want you to have a quality, comfortable mattress at realistic low prices every day.
My happiest childhood days were spent working on my father's ice cream truck in New Jersey. Even though I grew up in New Jersey I knew I was destined to travel west. In the sixties I hitchhiked around the country, eventually winding up in Alaska to get away from the crowds. I worked on off shore oil rigs, factories, drive inns, lodges and served in the Navy. I learned a lot from each experience and it helped me realize that self-employment was for me.
In 1968 I went back to New Jersey and got married. On our first anniversary my wife and I opened our first store in Burlington, New Jersey. But the allure of Alaska was strong and in 1971 I gave my business away and almost froze to death traveling back to Alaska on the Alaskan Highway. We arrived in Anchorage with a only few thousand dollars, our infant son and a dream. For a while I worked at First National Bank and learned with hard working honorable people can achieve anything they want. Encouraged by that we went looking for a store. We found an old church behind a road closed sign in Chugiak. It became our first Alaska store. We worked seven days a week doing everything ourselves. We were the accounting, sales, delivery and janitorial staff. By being honorable and working hard, we eventually achieved success.
Part of our success came from advertising to let people know about our furniture and great low prices. We ran lots ads and we sold millions of dollars from a quonset hut and that old church in Chugiak. I also learned how to find good deals for my customers and that customers know a good deal when they see it.
Then I opened furniture stores in Anchorage, Sterling, Fairbanks and Wasilla and for years I was the "Furniture King." I guess it went to my head, I spent too much and I tried to be a real estate mogul. Things went wrong in 1988 and I gave up everything we had worked for to see that our creditor's were paid. The business went to an employee and I left Alaska with little more than when I'd arrived.
After I left Alaska I opened a high-end furniture store and a mid-range one in Washington State. After ten years of hard work I realized that I couldn't bring great values to the furniture business, but I could offer tremendous values in mattresses. That's when the idea for the Mattress Ranch came to me. We opened a little store on Callow Avenue in Bremerton, then a bigger one down the street, and then an even bigger one further down the street. Each year was bigger than the last. We opened lots of locations and though not all of them were successful I learned what worked and what didn't.
In 2004 I went back to Alaska and opened a small store in midtown Anchorage. We did more business than I ever imagined. Within a year we expanded from a store front to the whole building then added locations in Wasilla, Soldotna and Fairbanks. Our Mattress Ranch store in Port Orchard still provides Washington's Kitsap County with a good night's sleep at great prices and now we have stores in Lacey, Aberdeen, Parkland, Tacoma & Puyallup as well.
I'm lucky to have a lot of great employees so now I can spend time with my family and traveling. I'm grateful for the support you all have given through the years, thank you and keep on dancin!